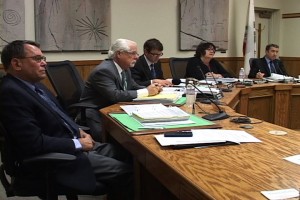 The local problem of homeless people in Inyo County came up when the temperature went down. Local groups confirmed that they do what they can for the homeless with food, temporary motel rooms and camping supplies. Many of these same groups formed what's called a state-sanctioned Consortium of Care. When they met this week, the Inyo Supervisors okayed the COC filing for a grant.
The Supervisors also shared that a recent conference clued them in on the growing homeless problem. So did Health and Human Services Director Jean Turner. She said that currently her department is helping four homeless families with seven children. They have received motel vouchers.
Turner said her programs normally see single adults. They have cared for 49 single homeless men between the ages of 21 and 64 and 15 single women of the same age group. Turner said many know each other. Some have RVs and stay together. Turner confirmed that there is a hole in community services to adequately care for the homeless. She said she welcomes the opportunity to dovetail services with the COC.
County Administrator Kevin Carunchio added that Inyo doesn't want to build up services and attract the homeless from colder areas like Mono and Alpine Counties. He suggested a workshop. Supervisor Jeff Griffiths said he asked Larry Emerson of IMACA to come to the Board of Supervisors in January for an overview of the Consortium of Care. Carunchio also said that the COC funding could "free up County resources."
The grant proposed by Wild Iris and IMACA on behalf of the COC amounts to $168,000. Apparently more funds will become available in the future. Supervisor Rick Pucci said this is extremely important. At a recent conference, he said he listened to the story of a girl who had been homeless for nine years. He said, "We need to address the issue better than we do now."
Supervisor Matt Kingsley admitted that he did not know homelessness was a problem in Inyo County. He said the numbers presented by Jean Turner were "striking." He said the idea of agencies working together on this "is not an option. It's a responsibility."