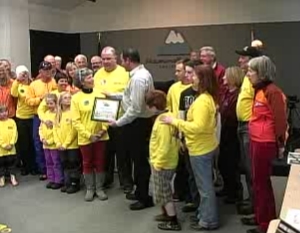 When the Mammoth Town Council last met, they recognized several people – one of whom was Kathy Copeland, who heads up Disabled Sports Eastern Sierra. Mayor Matthew Lehman invited Copeland and her crews to the front of the room.
Lehman said all of the volunteer groups in Mammoth are special, but Disabled Sports, he said, needs recognition. He said the group makes it possible for many Wounded Warriors to enjoy sports.
The Mayor said all those who joined Copeland at the front of the room had participated in the recent 38th Springtacular event. The Mayor said, "Our community needs to be really proud of Kathy Copeland and what the group does. This is what makes us a community," he said.
Copeland graciously accepted and made sure to say that "it's everybody here who makes it all happen."