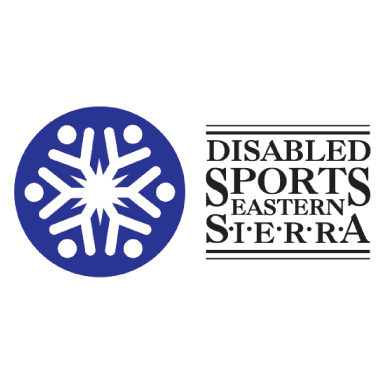 Last month, a massive mid-December storm didn't stop hundreds of attendees to Disabled Sports Eastern Sierra's largest and most important fundraiser of the year, the Starry, Starry Night Extravaganza.
DSES is overwhelmingly grateful to guests, volunteers, donors, and
everyone who made it possible to raise more than $169,000 for year-round adaptive recreation opportunities in the Eastern Sierra!
During this festive, sold-out fundraiser on December 11 at Mammoth Mountain, guests enjoyed
a delicious family-style dinner and dancing to live music from band Afterparty. In addition to
the traditional "wine grab", virtual silent auction, and raffle (run by the Mammoth Lakes
Robotics team!), everyone was entertained by a vibrant live auction with auctioneer Keith
McLane, and poignant stories from speakers Phil Hashem (@QuadOnABike), DSES Board Chair Steve Mount, Executive Director Laura Beardsley, and Board Member and retired Founding Director Kathy Copeland.
Special thanks to the Starry, Starry Night Extravaganza premier event sponsors: Rainbow
Sandals Foundation, Howard and Renee Durlester – Durlester Investment Group of Wells Fargo
Advisors, Frome Investments, Kathy Copeland, Neil Sherman – Industrial Metal Supply, and
Mammoth Mountain Ski Area.
DSES would also like to thank the following generous donors and volunteers for making the
Extravaganza so incredibly successful:
Aerohead Cycles of Bishop, Peter Albert, Alpen Veterinary Hospital, Amy and Steve Ambellan,
Aloha Steakhouse, Simone Ardouin, ASO – Adventure Sports Outpost, Maureen Baker, Lindsay
Barksdale Birrell, Blazing Shears Salon, Catherine Bong, Ingrid and Michael Braun, Christine
Bubser, Chris and Erin Bulkley, Bob and Liz Burke, Jennifer and Craig Burrows, Dr. Ronaye
Calvert – LIVE Treatment, Channel Islands Marine & Wildlife Institute (CIMWI), Jim Cox – J. Cavanaugh Inc., Jon Crowley – Mammoth Mountaineering Supply, Daria Buonassisi and Tony de Paolo, Judy DeSalvo, Dessert'd, Dre Dillon – Shift Physical Therapy, Dave Easterby – State Farm, Snowcreek Athletic Club, Cynthia Eppolito, Carolyn and Ed Escoto, Emily Estremo, Cynthia Fleming, Yvonne Flores, Ann-Marie Flowers, Footloose Sports, Tracey Ford, Jeff Frome, Dave Geirman, Alix Ginter, Good Life Café, Heidi Goodwin, Scotty Haines, Darren Hall, Marji Hall, Lauren Hanna, Alisa and Paul Harper – Warming Hut, Don Harrell, Hilton Hawaiian Village Waikiki Resort, Hobie Surf Shop, Andy Holzer – A-Frame Wines & Spirits, Doug Hornbeck, Lesley- Anne Hoxie, Harv Humphrey, Ed & Kathy Hurley – Burgers Restaurant, Mike Ishikawa, Island Packers, Italian Pottery Outlet, Marci Jefferson, Mark Jobe, Jane Johnson, Sara Jones – Rancho Potrero Trail Rides/Ride On, Deena Kastor, Marc Kayem, Jamie Kelly, Brian Kirschmenmann, Steve Klaussen – Wave Rave, Jacqui Knudsen, Taylor Kumlue – Noodle-ly, Katherine Landau, Dawn Lazar, Juliette Lee, Robin Lee, Benjamin Leeds, Cara and Dave Leonard – Booky Joint, Chris Leonard, Randee and Neal Levin, Mike Licari, Little Bohemian, Mammoth Chiropractic, Mammoth Lakes Film Festival, Mammoth Tavern, Paul Martin, Michelle Mather, Cody Mathison, Kevin Maxwell, Renee and Ryder McCormack – Mountain Maven Concierge, Minaret Cinemas, Kathy and Bert Moon, Kim Montgomery Home, Kathy Moon, Gary Morgan, Jenny Morris – Profiles Salon, Stephen and Stephanie Mount, Connie and Roy Moyer, Jackie Myers, Jake Myhre, Sarah and Tarek Nuttall, Blazing Shears Salon, Stephan Olson, Sean Orlowicz, Our Water Works Carwash, Marion and Martin Owen – Cliff House Bed & Breakfast, Jessica Owens, Patagonia, Allison Page, Cherne, Harrell, and Parisky – Mammoth Radiology Associates, James D Patch, Dan Peterson, Andrea and Tony Pighetti, Josh Pighetti, Stacey Powells, JoAnn Reilly, Andrea Ramras, Elizabeth Root, Biliana Rotse, Madeline Roy, Arash Sayadi, Joanie & Dan Schaller – Roberto's, Kirk Schaubmayer- Petra's, Stacy Schaubmayer, Mastro Scheidt Cellars,
Thomas Schemenauer, David Shapiro, Tracie and Steve Shatkin – Mammoth Coffee Roasting Co., Kristen Shellberg, Ed Shinto – Verizon of Mammoth Lakes, Alasdair Simonds, Skadi, Jim Sloan, EL Smoogen, Tailwaggers Pet Store, Kathleen Taylor, Tim's Snow Removal, Brendan Steinman, Laurel Szeto, Becky Takayesu, Phil and Liz Tanton, Têra Kaia Bishop, Vesa Tontti, Betsy and Brent Truax, John Urdi, Aly Vanko – Profiles Salon, Faye Wachs, Andrea Walker – Stellar Brew, June Lake Brewing, Eric Wasserman, Graphic Conclusion, Bill Wischmeyer, and Cheryl and Rick Wood.
This event was just one of the many necessary ways DSES raises funds to support its mission to
provide opportunities for accessible recreation throughout the Eastern Sierra. Financial support
provides personalized instruction, state-of-the-art equipment, scholarships, and resources to
give children and adults with disabilities the opportunity to participate in outdoor recreation
and adaptive sports like downhill skiing and snowboarding, cross-country skiing, snowshoeing,
mountain biking, road cycling, paddling, kayaking, and more.
As we enter 2023, DSES is in the midst of exciting new phases for the organization. The
historic Fern Creek Lodge in June Lake was purchased in 2021 with guidance from the DSES
Board of Directors, and extensive renovations for accessibility and programs have been
underway since early last year. The facility will be used as the home of a major expansion of
DSES's programs for military and veteran athletes and will provide retreat-style adaptive sports
programs year-round. The facility has been renamed the Jack & Kathy Copeland Center at Fern
Creek Lodge, a name chosen by champions of the campaign, Ruth and Roger MacFarlane, to
honor Kathy and Jack's remarkable impact on the community and the many individuals who
have benefitted from DSES programs.
Support provided through fundraisers like Extravaganza as well as expansion to the new
Copeland Center helps DSES engage people of all ages in exciting adaptive recreation in the
Eastern Sierra. Last summer, one participant in an adaptive mountain bike camp commented,
"I'm not kidding, this was two of the best days of my life."
It takes an entire community to provide accessible recreation opportunities, and DSES would
love for you to be involved. Tell your friends about DSES programs, make a donation, or
become a volunteer! DSES is also hiring for a number of exciting open positions – all of this and
more can be discovered on the DSES website at DisabledSportsEasternSierra.org or stop by our
office below the Panorama Gondola at Main Lodge and say hello.