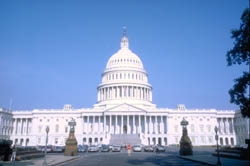 Future voters will head to Washington, D.C. this spring to learn more about what goes on there and about our nation's history. Mammoth Lakes 5th graders who sign up will head to the capitol in April and are busy now raising the money needed.
Burgers Restaurant in Mammoth will help out Tuesday evening. Parents reported that Burgers' owners Ed and Kathy Hurley will donate a portion of dinner Tuesday, 4pm to closing as a fundraiser.
Student and parent organizers work with a student travel agency called World Strides. So, with enough money in hand – some $2,066 per student – the 5th graders will take their trip over Spring Break to get a close up of U.S. History.
A reported 18 students have registered for the April trip. You can help them out with dinner at Burgers Tuesday night.