– Press releases
A fundraising dinner and concert to benefit those affected by the Round Fire in Swall Meadows and Paradise is being organized by local citizens, the Rotary Clubs of Bishop, Bishop Lions Club, Altrusa of the Eastern Sierra, and service clubs in Mammoth Lakes.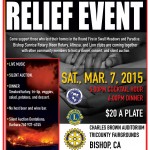 The event will take place Saturday, March 7th at the Charles Brown Auditorium at the Tri-county Fairgrounds from 6-9 pm.  The menu will include beef tri-tip, smoked turkey, garlic roasted potatoes, veggies, salads, beverages, and Schat's bread. 4H kids will provide desserts.  A no-host bar will offer beer and wine.
Bishop's own String Theory will entertain the crowd.  A Silent auction will be held and those wishing to donate items for the auction can call Barbara at 760 937-6745.
Tickets are only $20 and can be purchased in Bishop at Spellbinder's Books, Eastern Sierra Community Bank, and the Bishop Chamber of Commerce, and in Mono County at the Crowley Lake Store, the Booky Joint and the Mammoth Fire Station.  One hundred percent of the proceeds from this event will go to those affected by the Round Fire.
For more information: Jeff Griffiths 760-937-0072
####
Community Benefit sale
The people of the Eastern Sierra are amazing!  The morning after the Round Fire, generous donors began dropping off donations of clothing, shoes, bedding, toiletries and other items to aid those displaced from Paradise and Swall Meadows.
The Salvation Army, Tri-County Fairgrounds, Bishop Chamber and many devoted volunteers have been working diligently for weeks to sort and display the items.  Dozens of families have picked up items and expressed true gratitude.
The outpouring of support has been phenomenal – so much so that more items have been collected than can possibly be used by the fire families.
Organizers will hold a "Community Benefit" sale with the remaining items this weekend at the Home Economics Building, Tri-County Fairgrounds.  Proceeds from the sale will benefit both the local Salvation Army and the Round Fire Relief Fund.  Hours for the Community Benefit Sale will be Saturday, March 7th, 9am until 6pm and Sunday, March 8th, 12noon until 4pm.
Everyone loves a great sale – and this one is not to be missed!  Amazing selection of clothing for men, women & children; shoes of all sizes and so much more!  Plus, proceeds go to a very important cause.