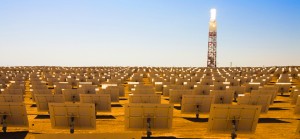 Solar development in Inyo County sounds like a good idea, but Inyo officials have found the proposed BrightSource Energy mega- solar project in Southeast Inyo along the Nevada border frustrating and potentially costly.
According to Inyo County Administrator Kevin Carunchio, The California Energy Commission has most of the authority when it comes to granting permission for the big project.  The CEC is expected to come out with a preliminary assessment of the project June 1st.  In an earlier press release, Carunchio said, "The primary concern is that the county is being asked to accommodate a $2.7 billion commercial solar-energy project that could end up never paying for its share of the impacts and costs it imposes on the local government and environment because of a purported state property tax exclusion."  Carunchio said Inyo County costs for public services associated with the project would add up to $1.7 million per year while property taxes from BrightSource would amount to $1.2 million.
The other concern – most of the plant's employees will not live in or spend money in Inyo County.  They are expected to live in Pahrump, Nevada. So, Inyo could expect no gain through employees.
Carunchio said that Inyo has little influence over the terms and conditions in the state approval of the solar operation.  He said that state law gives the CEC sole power of approval with some consideration of Inyo's laws and regulations.
In government's quest for alternative energy, control over solar projects goes to the State for expedited approval.  Inyo's CAO said, "We have extremely scant control."  Inyo does have an alternative energy ordinance and will submit comments to the CEC.  Carunchio said he and other county officials have been very engaged with the CEC on this project and the environmental review process. He said they are quantifying costs and counting on the CEC to protect Inyo.  Carunchio said BrightSource Energy is ignoring any local processes.
Carunchio said he spends nearly 20 hours a week on this project along with the time of 3 county attorneys, a socio-economic consulting firm, the Planning and Water Departments.
Meanwhile, the Los Angeles Times reported that BrightSource Energy has put off plans for an initial public offering because of "adverse market conditions."  The Times said that it has been a challenging year for solar energy firms and "tepid interest from investors."  It's unclear if this news will have an impact on the Death Valley area project.