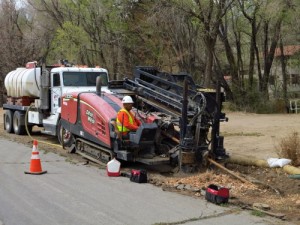 The last cabling for the backbone of the Digital 395 project will go in next Thursday, according to Michael Ort of Praxis which is the builder of the project.
Ort said after the final splice next week,  his crews will install cabling in Lone Pine and complete some community anchor hook-ups with final completion expected by Thanksgiving.
The $100 million federal and state funded project will make significant increases in bandwidth capacity for the area and create a bi- directional fiber optic line which will serve as a back-up if the line is severed.
Ort said Internet providers are already able to offer more bandwidth except for Lone Pine.  He said the fiber optic cable is now connected from Barstow through Bishop and Reno to Mammoth.  Ort said the last splice will happen in the area of Tom's Place next week.
Asked how he feels about the massive project, Ort said, "We're very happy we were able to bring this together.  It is historic and will transform things.  A lot will be happening for Inyo and Mono."  Local officials believe the major increase in bandwidth will mean big opportunities for economic development.