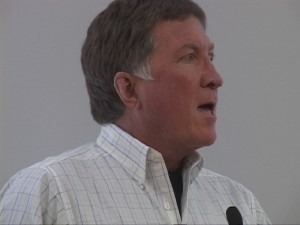 Michael Ort heads up Praxis Associates which currently continues to construct the Digital 395 project, which is 583 miles of fiber optic line from Barstow through Inyo and Mono counties to Nevada. It will bring high speed internet to many. Ort gave an update of the project to the Inyo Supervisors on Tuesday.
Ort explained that he is also a princpal member of California Broadband Cooperative, the owner of Digital 395's fiber optic line. With many details about construction on various parts of the project, Ort told the supervisors that things are moving along and that $23 million has been spent on permits and regulatory processes with as many as 47 different agencies along the route of the project. Ort said this took longer and cost much more than anticipated. He said the project has received all licenses and rights of way from end to end.
Crews just finished at China Lake Naval Weapons Center lands and worked to avoid harm to the desert tortoises there. In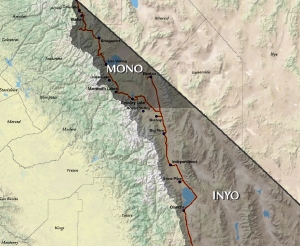 other places weather or the existence of cultural resources has challenged their work.
Ort explained that he and others have broken the route down into 84 different sections to systematically get regulatory approvals for their cultural program. 15 of those sections, he said, have been completed. Ort said the approach by his crews was to focus on higher elevations first before too much snow had fallen. More recently, they have been working at China Lake and the Bishop area.
Crews have worked to dig a trench and lay conduit on Casa Diablo Road but ran into problems with the Bureau of Land Management. Larry Primosch of BLM said that when they installed conduit, Praxis crews may have intruded into a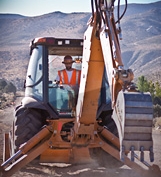 Wilderness Study Area and outside the existing right of way. How long will this delay the work? Primosch said a meeting would take place in the next 10 days to discuss it. He said this issue involves 1.4 miles.
Ort said work is expected to take place in Olancha and Independence in March. Crews dig trenches, lay conduit and then, as Ort explained, blow fiber into the lines. He suggested citizens could check out their website for updates. That's www.digital395.com.
Before high speed internet service is activated, the entire line will have to be connected. Grant requirements say the project must be done by July 31 of this year. Ort said they are on schedule. He confirmed that he makes regular reports to the National Telecommunications and Information Administration.
Digital 395 is funded by $80 million in federal stimulus funds and $20 million from the state. Supervisor Chair Linda Arcularius said, "The excitement level for this project is keen." She said she hopes there are no surprises from the federal side.