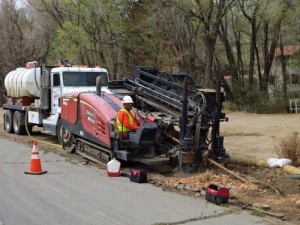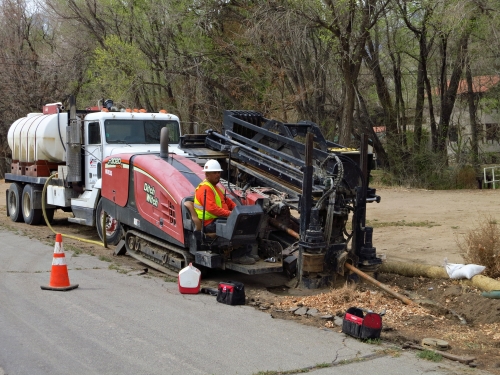 Many plans seem to rely on the completion of the project known as Digital 395. Michael Ort of Praxis Associates, which heads up the project, told Sierra Wave Media that next month he believes crews will have finished laying all of the conduit in Inyo County. That will mean connections from Bishop to Barstow.
Ort said the project, which faces an end of July deadline, should reach that goal on time. Last week, residents in
Independence saw the Praxis crews laying cable. Ort said that work is also done in Ridgecrest.
He admitted that there have been some push backs and challenges, but things are still moving ahead. One of the hang-ups was a contention by the Bureau of Land Management that the Digital 395 crews had gone onto BLM land. Larry Primosch of BLM had told us that the Praxis crew apparently intruded into a Wilderness Study Area and outside the existing right of way. Ort said this issue is on the way to resolution.
Earlier Ort had said that California Broadband Cooperative, owner of Digital 395, had spent $23 million on permits and regulatory processes with as many as 47 different agencies along the route of the project which is expected to cover 583 miles with fiber optic line.
Work on the project concentrated on northern Mono County before winter storms moved in. Then, crews moved to the south to finish Ridgecrest and much of Inyo County.
Before high speed internet service is activated, the entire line will have to be connected. Direct lines will go to many agencies, government buildings and hospitals. Internet providers will also receive the new service which will then go on to individual users.
Inyo and Mono County officials see Digital 395 as a potential for economic growth and relocation of more businesses to the Eastern Sierra.