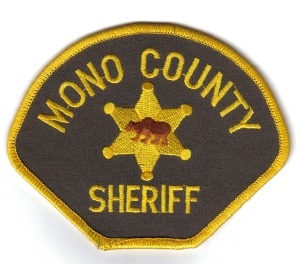 Fatal Traffic Accident on Hwy 395
On Saturday, June 30th, 2012, at approximately 11:30am, Mono County Sheriff's Department dispatch received a call regarding a traffic accident that had occurred on Hwy 395 at Obsidian Dome Road.
Mono County Sheriff's Deputies, California Highway Patrol, Mono County Paramedics, and June Lake Fire Department were dispatched to respond to the accident. When Mono County Sheriff's Deputies arrived on scene, a gray Jeep SUV was on its side in the middle of the intersection at Hwy 395 and the Obsidian Dome Road turnoff. A green Dodge Caravan, with damage to the driver's side door, was resting on the east dirt shoulder. Witnesses of the accident stated the Dodge Caravan was traveling eastbound from Obsidian Dome Road onto Hwy 395 without stopping to observe if there was any oncoming traffic. The Jeep SUV, unable to stop to avoid the collision, struck the caravan.
The driver of the Dodge Caravan, Randy Sly, age 53, a transient of the Mammoth Lakes area, was killed as a result of the collision. Passengers of the Jeep SUV suffered major injuries and were transported to Mammoth Hospital for treatment. Autopsy results indicate that Mr. Sly's cause of death was due to traumatic injuries caused by the traffic collision. Accident details are currently under investigation by the California Highway Patrol.
Prepared and written by: Jennifer Hansen, Public Information Officer
Overdue Climber found deceased in the Sawtooth Range
On Tuesday, July 3, at 5:50 pm, Mono County Sheriff's Department dispatch received a call reporting a climber that was overdue from a planned traverse of several peaks in the Sawtooth Range from Matterhorn Peak to Blacksmith Peak. This range is the boundary between Mono County and Yosemite National Park.
Mono County Sheriff's Deputies, along with team members from the Mono County Sheriff's and Yosemite National Park Search and Rescue (SAR) Teams, responded to the Matterhorn Peak area to search for the overdue hiker, Michael J. Ybarra, age 45, of Los Angeles, CA. Search teams found that Mr. Ybarra had signed the summit register at Matterhorn Peak, but not at Cleaver Peak, thus intensifying the search efforts between the two peaks.
As the search expanded into a multi-day, multi-agency search, a crew from the National Guard out of Sacramento was requested to aid in the search efforts via a Blackhawk helicopter. The helicopter crew located Mr. Ybarra, deceased, on the steep western flank between Matterhorn Peak and Cleaver Peak. Yosemite National Park and Tuolumne County personnel recovered Mr. Ybarra's body on Wednesday, July 4th.
Final cause of death is pending autopsy results but appears to be the result of a solo climber fall.
Prepared and written by: Jennifer Hansen, Public Information Officer