Dick's Smoke Wagon is a new gourmet barbecue company located in Big Pine. They utilize a variety of dry rubs, marinades,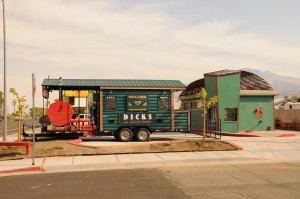 sauces, and mops on their meat products. They combine preparatory techniques with extended cooking times, the proper low heats, skill and pure hardwood smoke.
The smoke wagon itself utilizes a large capacity wood burning smoker, which is a patented system featuring continuously revolving meat racks. The owner, Dan Hoffman, started in San Diego with a number of successful Smoke Wagons. Some of the food offered range from St. Louis Ribs and smoked full chicken to bacon wrapped jalapeos stuffed with cream cheese. The Smoke Wagon is scheduled to open next Wednesday and I'll be there to rate some of the offerings.