Dial-A-Ride bus service has filled a big transit need in Inyo and Mono, but now Mammoth will eliminate that service after 6pm for all but the verifiably disabled.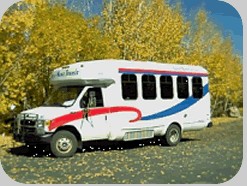 When the Eastern Sierra Transit Authority Board last met, they did okay a new Americans with Disabilities Act policy. It all started when the Mammoth Town Council and Mammoth Mobility Commission decided that the Town would be better served to spend Dial-A-Ride transit funding on a fixed route bus. That decision then required that ESTA offer free transit to the provably disabled at night.
That will apparently all start November 13th. Some residents told us they feared that the same thing might happen in Bishop or Lone Pine – a cut of Dial-A-Ride in favor of spending money on fixed routes. I asked ESTA Director John Helm about that. He maintains that the policy is just for Mammoth for now and that Dial-a-ride is open to the general public everywhere else. The elderly, single parents and others rely on the service.
Others questioned how Mammoth was able to alter how transit funds are spent since that duty belongs to the ESTA Board. Helm said that he and the Board are looking into that. He said the roles and responsibilities need to be clarified.
When asked if the working people of Mammoth would suffer without the use of night time Dial-A-Ride, Helm said that Mammoth officials believe the vast majority of use at night was by tourists and party-goers. Helm said there is an extensive fixed route that goes to most business areas on Main St. and Old Mammoth Road from 7am to 1am in the winter time.