Bus service will change in Mammoth Lakes next month. The Eastern Sierra Transit Board will vote on a new policy that will qualify the disabled to ride night-time paratransit service, as they call it.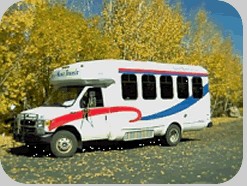 According to the ESTA board agenda packet, the Mammoth Town Council and Mobility Commission okayed a transfer of transit service hours from the night time dial-a-ride service to the daytime Old Mammoth Lift fixed route. The new plan makes Dial-a-ride service past 6pm only available to individuals qualified for eligibility based on a disability that prevents use of the fixed route services.
According to ESTA, the Americans with Disabilities Act requires transit agencies that provide fixed route transit must also provide complementary service for the disabled. ESTA says that most of the night time Dial-a-ride customers are able-bodied people who are headed to Mammoth's night life. Mammoth officials say these people can use taxis.
The new ADA policy sets out a procedure to qualify someone as officially disabled and eligible for free night time transit service on a dial-up basis. Some citizens fear that the loss of dial-a-ride service will diminish all over the Eastern Sierra as a result of this new policy.
There is nothing stated in the ESTA agenda packet about wider plans to cut dial-a-ride, a service used by many elderly and disabled in Inyo and Mono. Dial-a-ride will continue in the daytime hours in Mammoth.
The ESTA Board will meet on this and other issues Friday at 10am in the Bishop City Council chambers.