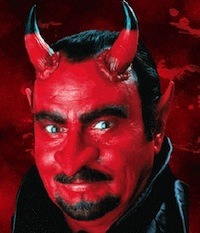 We saw the devil the other day. He was wearing an Anthem Blue Cross Insurance T-shirt. That was on Monday. The rest of the week he wears the black T-shirt that merely sports the words "Wall Street" with flames that leap up from below. The devil likes the cliche – been there, done that, bought the T-shirt.
He also likes the cliche – green-eyed monster. You know – jealousy. Maybe that's what's up in Sacramento and Washington. Generally speaking, the two parties spend a great deal of time in search of ways to make each other look bad. Hey, guys! We're out here. Look at us!!!! They just can't stand one of their opponents to get points. Has someone told them this is not about points? Oh, wait a minute. It is?????!!!
Talk about points. What's with all these house arrests? The rich and famous get to sit in their penthouses with ankle bracelets that tell if they bolt from the premises. Maybe if some of these Wall Street guys who rip off investors for millions knew that their destiny included Rikers, they just might resist temptation. Doubtful, though. Remember the Devil's T-shirts.
We hear he just bought one with Edison on the front. No, not Thomas Edison. Southern California Edison. The company has applied for more rate increases. An average rate increase of 7.22%, according to the company. They also want to raise non-residential rates according to time of day used. This could hit businesses, which must use power during daylight hours when they function. Check it out at www.sce.com/applications. The Public Utilities Commission will rule. If you want to comment, go to [email protected].
Feel helpless in the face of government, corporations, regulations? The only answer – stand up and speak. That's what retired Mono Superintendent of Schools Rich McAteer did Wednesday night at the Mammoth Town Council meeting. As the council members sunk into details and expenditures for tourism, McAteer tried to raise them back out into a bigger picture. He said that they have a Town of 8300 people to serve, and that means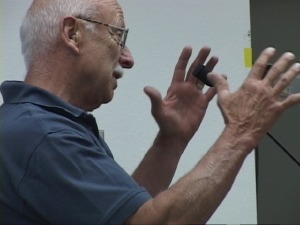 infrastructure for the people. He said, "You still have the 800 pound gorilla out there. You haven't even begun to deal with that." He meant the Mammoth Lakes Land Acquisition businessmen to whom Mammoth owes $40 million. Yikes. McAteer has a good point. Even after the Town deals with this interim budget, then comes the $40 million paybacks. Annual interest alone could add up to $2 million.
Privately, Mammoth people talk much more excitedly than they do at public meetings. We've heard some say, "Give 'em the airport. Give 'em the Bell Shaped parcel. Give 'em things they want that we don't need. Get this monkey off our back."
Life as we have known it has changed. According to the Anderson Forecast, economic recovery sits just out of reach. That outfit had predicted California's unemployment rate would drop below 10% in early 2013. Now they say mid-2013. California home prices continue to drop. DataQuick said May home sales in California dropped more than 13% over last year. Meanwhile, the State announced a shut down of four state garages with the one in Sacramento to stay open. The politicians act like they can keep up this routine of name-calling indefinitely when it comes to the state budget. Maturity seriously lacking.
As we say in Bureaucrat Beat, we will see how government changes from county courthouse, to the State House, to the Whitehouse.
With that, this is Benett Kessler signing off for Bureaucrat Beat where we await your word on our lives in the Eastern Sierra and beyond.