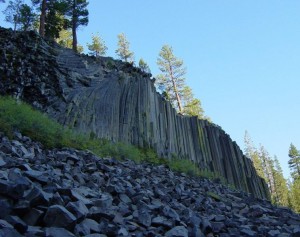 Temporary Road Closure at Devils Postpile National Monument  (Press Release)
A road widening project will cause a temporary closure of the Devils Postpile access road from 8:30 p.m. on June 9 through Thursday June 13 at 9:00 a.m. On Monday June 10 and Wednesday June 12 there may be intermittent access to Devils Postpile via the overnight hiker parking lot and a ¼ mile trail from that lot to the trailhead and ranger station. That parking lot is small and may fill up early, so please be prepared to park at other trailheads during the roadwork. All hiking trails will remain open, however, trailhead access at Devils Postpile will be affected. The Devils Postpile access road will re-open on June 13, although intermittent delays may be possible as cleanup proceeds.
The closure will be in place in order to facilitate a road project that will provide wider turn outs and a safer experience for vehicles and for the shuttle bus service. This closure is only for the Devils Postpile access road. The main Reds Meadow Road will be open. The Devils Postpile access road is expected to re-open to the public with no anticipated delays on Friday June 14. Please call the Devils Postpile Ranger Station for updates and current conditions at 
760-934-2289
 or visit our website at 
www.nps.gov/depo
.