After hearing from several local contractors that people are waiting in the wings to build or remodel single-family homes if permit and developer impact fees were reduced, the Mammoth Lakes Town Council voted unanimously to reduce these two types of fees by 50 percent through Aug. 15, 2010.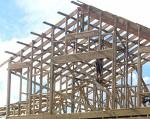 With very little construction taking place in Mammoth these days, and many local contractors who have been in the area for years having to leave town to make a living, the Council looked at this reduction as an economic stimulus for the community. Mayor Wendy Sugimura did have her doubts, however.
"Cutting fees is the easy thing to do during times like these," Sugimura said. "Even our new President has rejected several stimulus packages because it doesn't solve the real problem."
She went on to say that cutting fees was bad business practice, as there is still another 90 percent of the community that needs help too.
Starwood Real Estate Manager Jim Smith, while not agreeing with Sugimura, did state that it was unclear whether or not any fees, high or half-priced, would induce construction at this time.
Overall the contractors believed that at least the fee reductions would send a message to the world that would squash the more recent idea that Mammoth is anti-growth. Even the Mammoth Lakes Planning Commission agreed that a reduction in fees would be good for the community. Commission Chair Elizabeth Tenney spoke on the group's behalf and gave Council their opinions, something the Planning Commission has rarely ever done before.