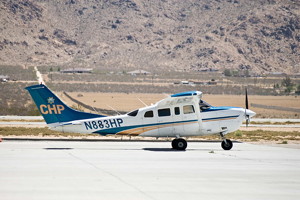 If they don't get you on the ground, the California Highway Patrol might catch you speeding from their aircraft speed enforcement detail. Officers took to the air on Sunday and officers on the ground issued citations and warnings.
According to a CHP press release, the Bridgeport Office of the CHP, along with the CHP inland Division Air Operations Unit, conducted an aircraft speed enforcement detail on Highway 395 north of Tom's Place. The speed limit is 65 miles per hour; and in a two and a half hour detail, CHP aircraft officers identified speeders. They directed officers on the ground to stop the vehicles.
CHP said a total of 19 enforcement contacts were made resulting in 12 citations and 7 verbal warnings. Officers said that citations were issued for drivers traveling between 80 and 84 miles per hour. Verbal warnings were given to drivers traveling between 75 and 79 miles per hour.
In their press release, the CHP reminds that speeding is the number one cause for traffic collisions in California. Lieutenant R.D. Cohan, commander of the CHP's Bridgeport Area, is quoted as saying, "Traveling at the speeds these drivers were cited for greatly increases the likelihood of an injury collision." He added that ground or air medical transportation to the nearest major trauma center in Reno takes hours. He said this fact shows the need for the CHP's use of a number of tools to catch violators.