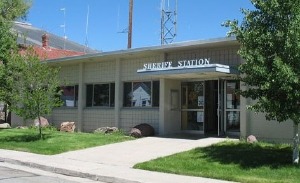 A Mono County Sheriff's Deputy has filed a claim for damages against Mono County.  His claim alleges that individuals within the Sheriff's Department engaged in "illegal and otherwise wrongful conduct."
The claim alleges that the Sheriff's Department violated Deputy Jon Madrid's civil rights under the Fair Employment and Housing Act including discrimination, harassment, retaliation and wrongful demotion.  The claim also alleges violation of the Police Officers Procedural Bill of Rights by "failing to provide documents on which adverse employment actions were based."
The claim lists Sheriff Rick Scholl as an employee who caused Madrid's damage along with other sworn and non-sworn personnel.  The claim says the amount in damages exceeds $10,000 but the total amount due to Deputy Madrid is unknown at this time.
When contacted about this claim, Mono County Counsel Marshall Rudolph confirmed the filing of the claim and that Deputy Madrid is still employed by Mono County and about to go into a disciplinary appeals process.  Asked to discuss the details, Rudolph said he could not comment since the issue is still going through the appeals process.
Rudolph did say that the County has 45 days in which to consider the claim.  No action, he said, would mean it was rejected.