It looked like a major operation, three Sheriff's patrol cars and two from Bishop Police. Bottom line – a parking issue in Bishop.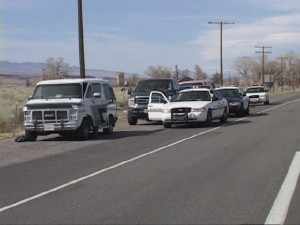 Sheriff's Sergeant Paul Baldwin said that the Department noticed cars starting to accumulate on Highway 6 north of Wye Rd. Many of them included For Sale signs. One of the vehicles belonged to Catherine Maffioli who went to court last summer to fight for her 47 cats that had been living in the van. She did not get the cats back but she did continue to apparently live in her van on Highway 6.
Sgt. Baldwin said officers coordinated an effort to remove her van and the other vehicles from the roadway. He said that an Inyo County Ordinance allows 10 days on the side of the road. He said that Ms. Maffioli's vehicle tires had been marked 13 days ago, and she had refused to move. The officer said her driver's license had been suspended from driving under the influence.
Other trucks lined up behind the van were removed except for one that will go later. Citizens wondered what happened to Ms. Maffioli. Sgt. Baldwin said she spent the night in a motel and will now go back to her van which will reside in the vicinity of Brown's Supply on Wye Rd.