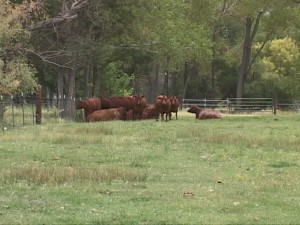 In a 6-page letter to the Department of Water and Power, Inyo's Water Director says LA has violated the Long Term Water Agreement with its new ranch leases because they give less water and less control over water than the Agreement allows.
In the mid-60s, when Los Angeles built the second aqueduct in the Owens Valley, the DWP cut the amount of irrigated acres from 21,800 to 11,600 so they could pour more water down the second barrel.
As part of the mitigation for this action, the 1991 Long Term Water Agreement says DWP will continue to provide water to irrigated leases as it was in the 1981-82 run-off year and that lease policies shall remain as they were from 1970 to 1990. The Inyo Water Department now says DWP's new leases violate both promises – they give less water to Owens Valley ranches and change policies on how lease water is handled.
In a letter to DWP Manager Jim Yannotta, Inyo Water Director Bob Harrington writes that "…maintaining irrigated lands and a stable ranching economy in the Owens Valley are critical requirements of the Long Term Water Agreement." His letter says in the mid-60s, DWP cut irrigated leases by more than 10,000 acres but did offer a firm water supply, generally 5 acre feet per acre. Not any more.
The new ranch leases say DWP will deliver water "up to" five acre feet per acre to ranches and "up to" 3 acre feet per acre for enhancement/ mitigation pastures. The "up to" language gives DWP the power to deliver a lot less. There is no longer a guarantee of 5 acre feet per acre. The new leases also say that during irrigation season, stockwater will not be provided concurrently with irrigation water as it has been for many years and that DWP might charge for stockwater. Lease language also says DWP has unilateral power to reduce water supply to irrigated lands. The Water Agreement says both Inyo Supervisors and DWP, not DWP alone, will make any changes in irrigation.
Water Director Harrington urges DWP to revise its ranch lease terms to make them consistent with the Water Agreement and provisions of the 1991 EIR that is part of that Agreement. DWP Manager Yannotta indicated he is reviewing Harrington's letter and will respond in coming days.