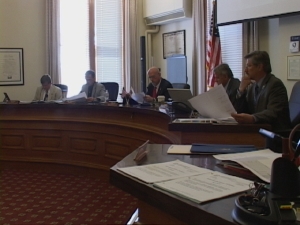 Owners of the Yosemite Gateway Motel in Lee Vining had asked the Mono Supervisors to waive penalties and allow a payment plan for their third and fourth quarter transient occupancy tax payments due to hardships created by the Rim Fire and closure of Highway 120.
Motel owners Tim and Kim Traynor said the fire and highway closure during summer months seriously hurt business for all motels. The Traynors had asked the Mono Finance Director to allow them to pay out taxes over time, but she declined to allow that. The Traynors appealed that position to the Supervisors. On a 3 to 2 vote, the Mono Supervisors denied the appeal. They did waive penalties for November since it took the Board about a month to deal with the issue.
Members of the Board did acknowledge the difficulties created by the disastrous fire and closure of Highway 120, but ultimately said they were not willing to set a precedent that would open the door for all businesses to delay TOT payments. Some pointed out that when businesses collect TOT, the funds should be held in trust for the local government.
Lee Vining sits in the district of Supervisor Tim Alpers. Asked to comment on this case, Alpers said, "It's unfortunate that it happened. The Board is very sorry these folks ran into problems, but the majority of the Board felt it was too precedent setting to get into TOT payment schedules. All businesses would be able to come to the County for relief. A lot of businesses have suffered throughout the County."
Alpers said that TOT is a major source of revenue for the County, which has many services to provide. Alpers said he feels badly for the Traynors but the issue, he said, is too big. On the vote to deny the appeal, Supervisor Larry Johnston voted no and Supervisor Byng Hunt abstained since Kim Traynor is his daughter. Alpers, Fred Stump and Tim Fesko voted yes.