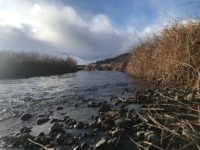 The Owens Valley / Mammoth Lakes
Dennis Mattinson, Weather and Atmospheric Forecaster
Sierra Wave Media / KSRW-FM 92.5 
After a nice Sunday, slightly warming temperatures and breezy weather is on tap for our Forecast Area today. Breezy weather continues Tuesday, as yet another Spring trough descends down along the CA coast. Light chances and a little snow in Mammoth on Tuesday. Wednesday, in the wake of that trough, temperatures rebound to near normal by Friday. By the weeknd high pressure begins to take control with temperature reaching 85° in Bishop by Saturday.
Bishop and The Owens Valley (KBIH elev. 4121 ft / 1246 m)

Monday: Sunny —> mostly cloudy. Breezy. 74 / 39

Tuesday: Partly sunny —> cloudy. Breezy. 72 / 40
Town of Mammoth Lakes (elev. 7129 ft / 2172 m)

Monday: Sunny with increasing clouds. Breezy. 44 / 25

Tuesday: Mostly cloudy. 20% snow showers. 46 / 26