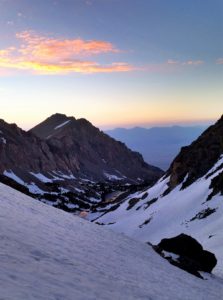 The Owens Valley / Mammoth Lakes
Dennis Mattinson, Weather and Atmospheric Forecaster
Sierra Wave Media / KSRW-FM 92.5 
At least two additional Spring weather systems look to move through the region. Today sees Mammoth with light snow, with a few breaks in the clouds. Then later tonight into Wednesday, a slower stronger system impacts our area with snow heavy at times in Mammoth and rain / snow in the Owens Valley. 
For Mammoth estimated snow totals today thru Wednesday: Main 22 – 29 inches, Summit 35 inches. Thursday sees a break for the Owens Valley, with additional systems dropping into the region, thru end of week for Mammoth. It sure doesn't look like Spring does it…DMATT
DMATTs Weather Fact: Today is the first day of Spring.
Bishop and The Owens Valley (KBIH elev. 4121 ft / 1246 m)
Monday: Increasing clouds —> 60% rain / snow showers. 58 / 33

Tuesday: 90% rain / snow. 48 / 26
Town of Mammoth Lakes (elev. 7129 ft / 2172 m)