A commenter on Sierra Wave News "Comments" page shared this interesting information shown on a graph on New Confirmed COVID-19 Cases per Day by States/Territories from John Hopkins University. Every Californian should take note. It shows the incredible numbers of new COVID-19 cases in California by comparison to the other 51 states and territories. What the graph show is undeniable. We Americans and Californians need to wake up and face reality.
Sierra Wave felt it important to share these graphs with our readers and listeners. The continuing denial of the seriousness of this pandemic is past the point of mere silliness. It is undermining the effectiveness of the public health measures needed to stem the tides of illness and deaths being suffered in California and in the rest of the country. This is not about "fake news," "conspiracies," or "politics." This is about the most serious health crisis the United States and the world has faced in over a hundred years…and yet, some people continue to make light of it by insisting it is not that big a threat.
The numbers of new COVID-19 cases in the U.S. by comparison to the rest of the world, and in California, by comparison to the rest of the country and worldwide, are startling and undeniable.
CLICK HERE OR ON GRAPHS FOR LINKS TO WEBSITE.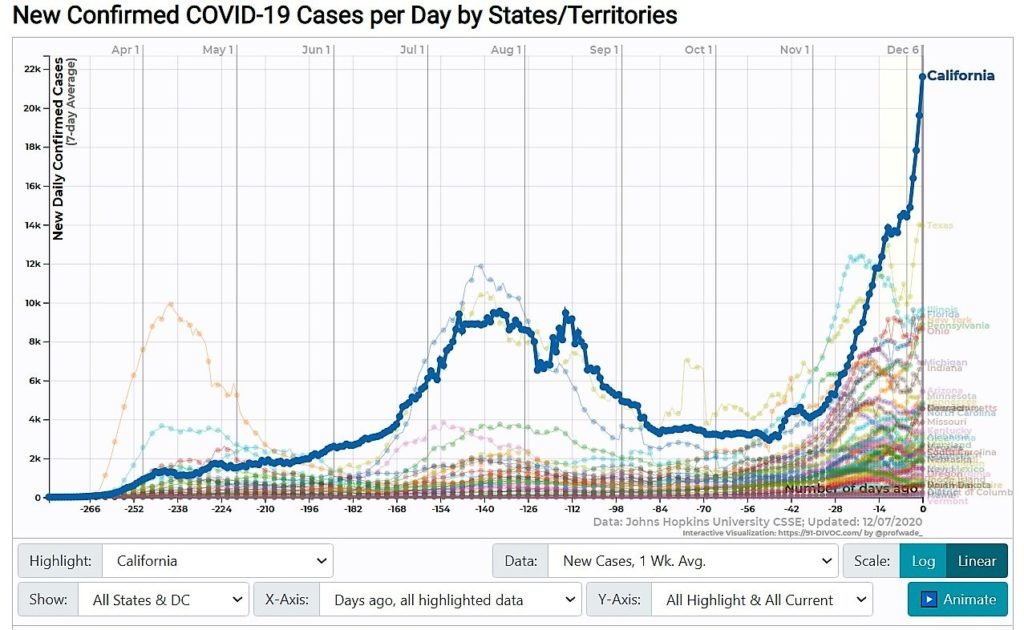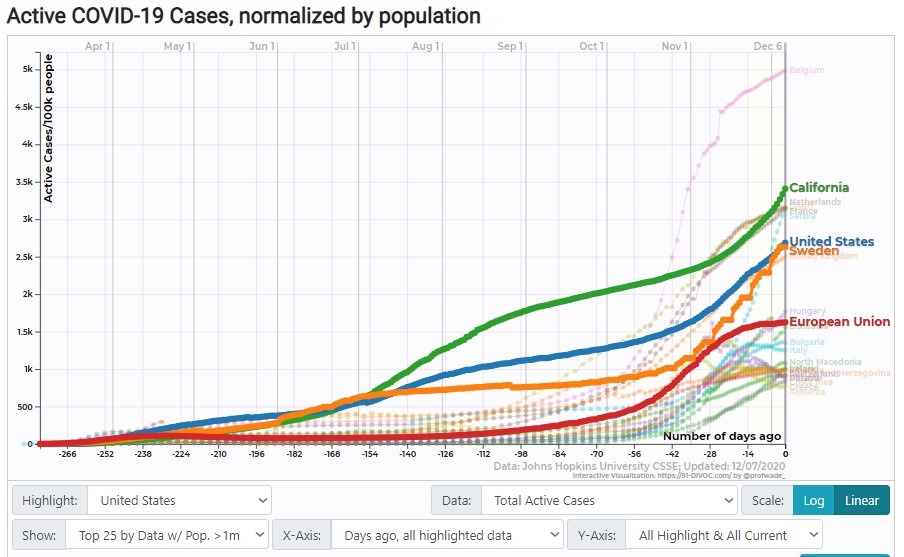 There is no doubt that the economic impact of this virus has been devastating on many small business owners, employees, and local economies and governments. The numbers, however, in this case do not lie. The critical factor is the number of ICU beds and hospital rooms for those that require medical attention in order to recover. If the country and the states hope to make it through the next few months until the currently promised vaccines can take effect on a measurable and meaningful level, citizens need to pull together, work together, and support proactive measures. It's safe to say that most people are tired of the extremely polarizing political partisanship, and that they have had enough: Enough of the fear. Enough of the politics. Enough of the lies and deceptions. Enough of devaluing people's lives.