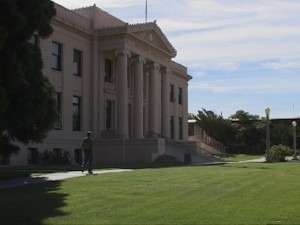 Inyo County attorneys and lawyers representing two environmental groups had planned to talk in a phone settlement conference on Friday. The issue is a lawsuit against Inyo County over the Adventure Trail pilot project.
Inyo County Counsel Randy Keller reported that one of the lawyers was not available so the conference is now set for August 22. The Center for Biological Diversity and the Public Employees for Environmental Responsibility filed suit against Inyo. They allege that the County did not adequately consider environmental impacts on plants, wildlife and people.
The pilot project was authorized in Assembly Bill 628 to allow licensed drivers of Off-Highway Vehicles to travel ten miles onto county roads to get to goods and services in Inyo communities. Dick Noles and others have spearheaded this project and have met with residents in most communities to lay out a plan for use of county roads.
Last week, the Bishop City Council did approve a draft of potential ATV routes within the City of Bishop as part of Inyo County's environmental document. Randy Keller said earlier that Inyo has completed steps to analyze any proposed roads. He said any roads suggested for use in the Adventure Trails project will be part of an Environmental Impact Report.
Keller is waiting to hear more detail from the environmental group attorneys to better understand their objections.