CHP officers report minor injuries after a local resident and her young passenger swerved to miss a deer on Pine Creek Road.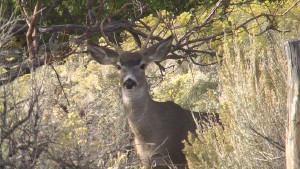 According to the Highway Patrol, 25-year-old Bishop resident Jody Ross was driving west on Pine Creek road Wednesday evening at about 6:00 pm when a deer ran into the roadway. The driver swerved the 1990 Honda to miss the deer and left the roadway, hitting rocks and boulders before coming to a stop about 70 feet off Pine Creek Road.
Highway Patrol Officers say that the driver suffered minor injuries including seatbelt abrasions and bruises. Her young passenger, a 5-year-old boy, also suffered bruises and abrasions caused by the seatbelt along with a broken tooth. The two were transported to Northern Inyo Hospital for treatment.