Inyo National Forest Supervisor Jim Upchurch has reached a decision on the long and often contentious issue of how to manage dirt roads and vehicle trails.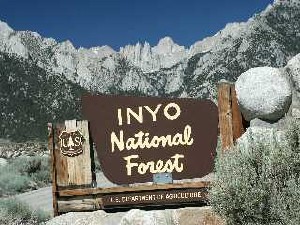 After all the often contentious public meetings over the years, Upchurch chose the compromise plan, known as Alternative 6. This Alternative was the plan that a group made up of members of the Friends of the Inyo, the Advocates for Access to Public Lands, and local politicians had publicly recommended to Upchurch.
There are about 3600 miles of dirt roads and tracks on the Inyo National Forest. Some of these roads are already on the official list, some are not. Under this decision 850 miles of high-clearance native surface roads open to all vehicles will be added as official roads, along with 122 miles of motorized trails open to all trail vehicles, 20 miles of ATV trails, and 15 miles of motorcycle trails. This leaves roughly 600 miles of roads and tracks that could face closure.
Upchurch says, I believe my decision provides a transportation system for the future by providing a sustainable system of roads and trails while protecting important resource values. The plan, removes many duplicative routes, and provides interconnected loops and linkages into backcountry landscapes, including a key north/south connector between the Inyo Mountains and the White Mountains, he says.
This fall the Forest Service plans to release a map on the updated motor vehicle use system. A series of public meetings to discuss this travel management system for the Inyo National Forest is scheduled for later in September.