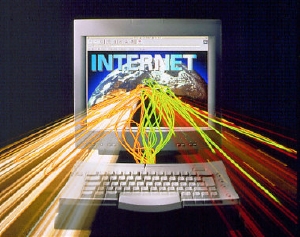 The California Public Utilities Commission has approved a $1,000,000 grant for broadband
projects in Inyo County. Additional funding from a $600,000 grant award to the Eastern Sierra
Council of Governments will reenergize the Inyo Mono Broadband Consortium, laying the
groundwork for future expansion of internet service to unserved or underserved communities
throughout Inyo County.
This was the good news delivered at last week's Inyo County Board of Supervisors meeting by
Scott Armstrong, Inyo's information services director. While planning grants don't magically
deliver the service, they are an integral step in a complex process to get all residents in Inyo
County all on-line.
One thing that makes broadband service complicated is the existence of both local and state
priorities and projects. Inyo administration is more keenly aware of which communities are in
the greatest need of access to reliable internet services. Also, Bishop was not considered for
grant funding because it does not meet the definition of an underserved area.
Armstrong explained the time line for the $1,000,000 grant, spread out over a two-year period
and concentrated on the low hanging fruit. In year one, the first priority will be those sites close
to existing broadband infrastructure. In year two, the emphasis will shift to projects on the
County's high priority list but not currently within the scope of either local or California planned
broadband development. Armstrong explained most of those sites are located from Lone Pine
to Death Valley and also need additional time for future development.
The final stage Armstrong said were projects "not near anything." While this phasing is
probably frustrating for those "not near anything," the logic is for the County to get done what
it can. "All the projects will stay on the list for future development," Armstrong said. They will
be approached individually and he was confident they would be "knocked out over the next five
to six years."
The $6 million ESCOG grant to re-start the Inyo-Mono Broadband Consortium, initially
organized in 2016, will cover the cost of hiring a Regional Broadband Coordinator. That position
was first filled by Charles James. Spread out over three years, the coordinator will do
community outreach, coordinate with service providers and work on grant applications for
future construction.