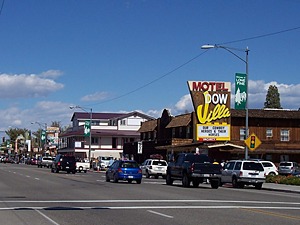 Frustration over traffic and speeds on U.S. Highway 395 came to a head at this week's Inyo Board of Supervisors meeting following a recent car vs high school student incident. The teen was battered, bruised and traumatized but will recover from the physical injuries.
Fifth District Supervisor Matt Kingsley brought up the incident at the start of Tuesday's meeting. A semi had stopped at a crosswalk to allow the pedestrian to cross. A passenger vehicle pulled around the truck to pass and struck the teen. Kingsley commented that the staff at the local CalTrans office was good, but as a public agency, CalTrans was "not responsive." He
also added there had been a "near miss" with an 8-year old recently.
Lone Pine Unified School District board member Scott Kemp explained the situation more graphically. "There's a grammar school at the north end of town and a high school at the south end," he said. "Cars come into town at 70 mph." He added that CalTrans had been receptive and law enforcement was great, but the speed indicators placed at both ends of the community
weren't slowing traffic. "They're used to driving that fast," he said. "It's a mentality."
Mentality is the issue. Tourist traffic from Southern California headed to and from points north don't seem to realize there are living human beings in the small communities seen as simply places to stop for gas, grab a meal or just get through as fast as possible. On a recent Sunday afternoon, traffic through Bishop was a bumper to bumper crawl. Once the traffic hit the south end of town, speeds hit 80 and didn't slow through Big Pine.
Nate Greenberg, Inyo's chief administrative officer, told the Board CalTrans has asked for a meeting with the County to look at solutions. Stay tuned.