Press release
The Eastern California Museum is pleased to announce their community outreach program for residents and visitors alike continues this week with another evening program at the historic Winnedumah Hotel in Independence this Friday August 21st.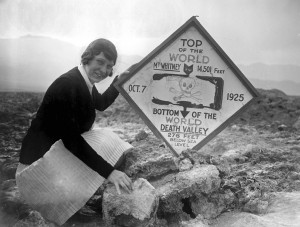 This weeks 45 minute interpretive program will be "The History and Development of Tourism in Death Valley".  This program takes an in-depth look at all of Death Valley's hotels from the Furnace Creek Resort to Wildrose Station.
Death Valley is America's largest National Park outside of Alaska. Its resorts and hotel have long played an important financial and socio-economic role in tourism dependant Inyo County. The people behind these hotels were visionaries and risk takers of the highest levels.  The history of their dreams and determination makes for an incredible one of a kind story. Come hear how some dreams grew beyond their wildest expectations while others joined the ranks of other Death Valley disappointments. The program will be held just off the lobby of the historic Winnedumah and will begin at 7:00 p.m.
This event is free and provided with support from the non-profit Friends of the Eastern California Museum.  Additional events are planned for the following weeks and on through September.  Upcoming events will include an interpretive tour of Manzanar Historic Site, a program and slide show by noted Owens Valley rock art scholar Courtney Smith and a tour of the mining town of Cerro Gordo, road conditions permitting.  Several additional events are planned as well.
For more information you can contact the Museum at [email protected] or call (760) 878-0258.
###
The Eastern California Museum and Manzanar National Historic Site presents a Tour of Manzanar Internment Camp Manzanar National Historic Site in cooperation with the Eastern California Museum invites everyone to attend a 90-minute tour of this tragic piece of American History this Sunday August 23rd at 9:45 a.m.
The tour begins with a 20 minute film Remembering Manzanar. Interpretive Ranger Rose Masters will then conduct an overview of the entire camp at the scale model inside the museum.
Afterwards, Masters will lead a guided walk through Block 14, including the barracks and mess hall, and the foundations of the latrines, laundry room, and ironing room.
This is a great opportunity to learn the in-depth history of this Owens Valley landmark. Visitors may take additional time after the tour to visit the camp on their own. Bring water and be prepared for warm temperatures. The tour is free of charge and meets at the Visitor Center. For more information please call 760 878-2194 ext 3317.