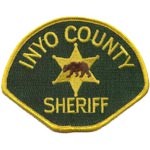 On Sunday August 5th, a backcountry hiker discovered a deceased male body on Sawmill Trail, east of the Aberdeen Resort. The coroner has now identified the man and concluded it is a case of suicide.
Back on August 5, Inyo County Search and Rescue members and a Sheriff's Investigator ascended the 2.5 miles up the trail and located the body following the hiker's report.
After that time, the death was under investigation. Monday, the Inyo Sheriff's Office released the information that positive identification was made on the deceased male body discovered on the Sawmill Trail. According to a press release, "Shane Michael Allen Badger, a 36 year old man from Rochester, NY, was discovered by a backcountry hiker on August 5th."
According to the Inyo Coroner's Office, Badger's death is listed as a suicide.