A 39-year-old Princeton graduate and post doctoral student from Berkeley died Saturday night, apparently when a wall furnace malfunctioned in his apartment in Big Pine, asphyxiating him, according to the Inyo County Coroner.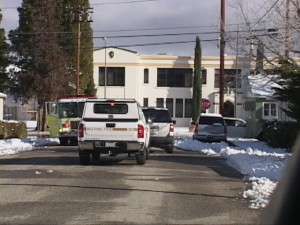 Huan Tran was working towards his professorship with a major project at the Caltech Observatory at Big Pine. Dave Woody, Assistant Director at the observatory said that Tran was a staff member and post doctoral student.
He had achieved his PHD in astro-physics from Princeton and was the project manager of a test telescope destined for Chile. Woody said Mr. Tran had worked to design the telescope which was going up on Caltech's Cedar Flat location.
The Inyo County Coroner, Leon Brune, said that it appears Tran died in his sleep. Brune said a fire marshall from San Bernardino was expected to come to Big Pine and investigate. Brune said Caltech had called to say Tran failed to come to work and they requested a welfare check. On Sunday, the Big Pine Fire Department and Inyo Sheriff's deputies responded.
Tran was a resident of Oakland. His family lives in Minnesota where his remains will go.