An incident on the Bishop Indian Reservation on New Year's Day has been ruled a suicide, not a homicide as originally thought.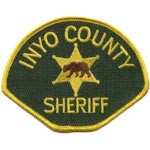 An Inyo Sheriff's deputy driving down North Sierra Highway was flagged down by individuals who told him that they believed someone had been killed. The tentative conclusion was suicide and Coroner Leon Brune has now confirmed that.
Because of the earlier two homicides in the last six months, officers were careful to respond quickly.