Late in the night at the Aug. 5 Town Council meeting, Council members approved the use of Town staff and equipment as in kind contributions toward the Sherwin Creek Road paving project. At the Aug. 19 meeting, staff brought forward a resolution to allow maintenance work on Sherwin Creek Road and solidify the decision made on Aug. 5.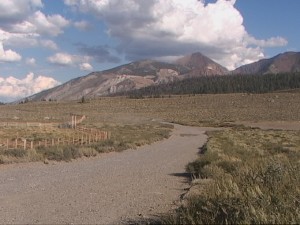 Turner Propane plans to put its tank farm out at the gravel pit/motocross parking lot located along Sherwin Creek Road, which is why a maintainable surface is needed for the road. However, since the road is used for public access, Turner does not feel it should have to foot the bill for the entire project. It has already paid for the design plans and the Forest Service permit necessary to make the road accessible year-round. The Forest Service owns the land and the Town does some maintenance on the paved part of the road at this time.
The Town would look to pave the road with a polypave substance that would need to be reapplied every few years. Other minor maintenance would also be involved.
Council woman Wendy Sugimura felt that the other parties should step up and bear more of the financial burden of the project since they would be receiving benefits as well. She was reminded, however, that Turner had already paid for the engineering plans. Plus, all of the Town's contributions, except for $10,000 in cash, would be made with in kind donations of staff hours and equipment. Sugimura asked that Turner take on the $10,000 in cash so that all of the Town's contribution would be in kind. Bob Spaniel of Turner Propane agreed to this request.
The Council ultimately agreed to the deal in order to guarantee propane throughout the winter in Mammoth. Having the site at the gravel pit will allow an extra tank to be installed, providing more pressure to the entire system. Last winter there were several occasions where the Town came within minutes of running out of propane. The extra tank will guarantee a supply that would last four to six days, relieving fears of not being able to access more propane if roads are closed during severe storms and trucks cannot get in to make deliveries.
"There are a number of issues surrounding running out of propane," stated Fire Marshal Thom Heller. With the extra tank, Mammoth hopes to never have to experience them.