Close to being finalized. That's how Mammoth Mountain CEO Rusty Gregory described top level negotiations among all parties at the Village at Mammoth.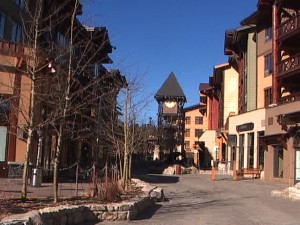 This statement follows a meeting that included all the players – CNL, Intrawest, tenants and attorney Rick Wood, Gregory and Mountain Finance man – Jim Smith.
For the Ski Area's part, Gregory said they are close to moving back into Village-owned retail space, opening a coffee shop, and potentially doing something with LuLu's space.
Negotiations have focused on rent, fees and other considerations. Gregory said CNL made "considerable rent concessions." The other good news – CNL has managed to attract existing Mammoth businesses as new tenants for the Village vacancies.
Gregory said the situation is "painful for everybody. We have to figure out how to share the pain." Gregory said he would be surprised if a final deal were not finalized in the next couple of weeks.
When contacted about the tenants' position, attorney Wood said they were all still working with CNL.