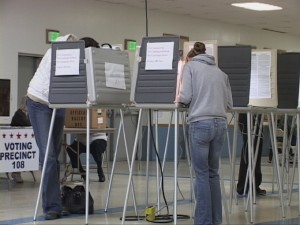 PRESS RELEASE
Kammi Foote, Inyo County Clerk, announces that Monday, October 22, 2012 is the last day to register to vote for the November 6, 2012 Presidential General Election.
Registering to vote has been made easier thanks to the latest phase of an online voter registration application.  Online or on paper, California's laws and procedures for processing voter registration applications are identical.  The voter registration application is accessible at RegisterToVote.ca.gov.  Paper applications are available at the Elections Office, post offices, public libraries, the Department of Motor Vehicles and more.
Also, voters may now find the location of their polling place, view copies of their Sample Ballot booklet or track the status of the Vote-by-Mail ballot on-line at the Elections Department website at www.inyocounty.us/Recorder/Clerk-Recorder.html.
If you have any questions regarding voting in this election you are encouraged to contact the Election Department at: 760-878-0224