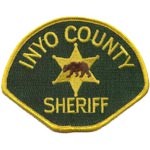 From Inyo Sheriff Public Information Officer Carma Roper:
On May 17th Department of Water and Power notified the Inyo County Sheriff's Office that a possible deceased person was spotted in the Haiwee Reservoir.
Sheriff's Deputies and Investigators, as well as Olancha Volunteer Fire Department and Inyo County Coroner, responded to the location and were able to locate the victim.
The subject is male, and believed to be in his 30's to 40's; there was no identification on the body.
An autopsy is scheduled in order to determine the cause of death.
More information will be released as it is available.