—A life of passion, purpose, principles and service—
David Young   April 26, 1928—March 16, 2021
David was born in San Antonio, Texas to David W. Young and Ena Comstock Young, joining 3-year-old sister, Lucy Young MacGregor.
As a young child, he was encouraged to live an outdoor life that included riding, subsistence hunting, milking of the cow and goat, and raising puppies.  In addition, his uncle was a pharmacist who encouraged David's interest in chemistry and science, providing him with materials for scientific exploration. He was an Eagle scout and remained an always active sportsman and outdoorsman throughout his life.
David joined the Army Air Corp (later to become the US Air Force) in 1946, shortly after turning 18, by the time of his honorable discharge in 1949 he attained the rank of Sergeant.  During this tenure he was awarded as a sharpshooter, he was a ham radio operator at Kearney Air Force Base in NE.  He learned to fly both fixed wing and helicopter aircraft.  After his service he finished college at Auburn University, earning a BS in electrical engineering in 1952.
He lived much of his adult working life in California, moving to Bishop after his retirement, where he was well-known as a horse rider and outdoorsman, and a member of Bishop Methodist Church.
David Young was a researcher and inventor with a tremendous mind. Among his noteworthy inventions is the primary type of airline antenna most commonly used on airplanes throughout the world. When you see the antenna blades that stick up on the top of planes–that's David's invention! The antenna was manufactured by Sensor Systems, Inc., which was founded by David, and later sold to Si and Betty Robbin.
Also, David was one of Lockheed's most awarded inventors for his work on the top-secret patent for stealth technology, as exemplified on the F-22. To his death, David called the F22 "his" plane; he crowed with pride when F-22s were employed to escort Russian planes away from US air space.  "They never saw us coming!" he would exclaim. "We can see them, but not be seen by their radar!!"
He created in his lifetime a total of 27 U.S. Letter Patents. The most recent was an app invented for heart arrhythmia patients that enables patient self-managing monitoring. The patent was purchased this year and is currently under development for product marketing.
Awards:
Certificate of merit for invention Lockheed aircraft Corporation June 27th 1968
Lockheed Corporation award for technical excellence engineer scientist of the year advanced development project Lockheed California company 1985: inventor of the year 1985
Inventor of the Year Award 1987 presented to David W young in recognition of his superior performance through the generation of inventions contributing significantly to advancing the state of the art in the field of low observable technology his inventions have been widely recognized for their potential to the business of Lockheed.
Technical fellow Lockheed advanced development company January 2nd 1992
Lifetime member of the Institute of Electrical and Electronics Engineers IEEE.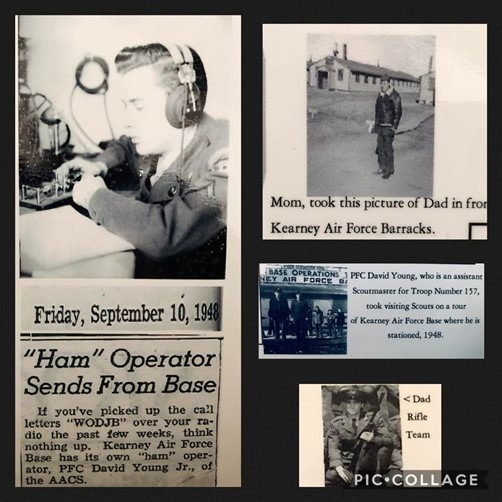 David and his former wife Peggy had 5 children. His eldest daughter Laura Ann died in her 40's. David's four surviving  children are Claudia Kay, David Wren, Rebecca Lee and Daniel James. There are 8 grandchildren and 5 great grandchildren. David's sister Lucy is still alive and lives in Simi Valley.
Later in his life, David married Leigh Shambo Young, whom he loved dearly and who stayed with him until the very end of his life.
In his retirement returned to riding and training horses, starting 5 horses under saddle and acquiring an interest in equine-facilitated psychotherapy.  He joined his wife Leigh Shambo in authoring a book on the topic–"The Listening Heart: The limbic path beyond office therapy,"  published in 2013 by Human-Equine Alliances for Learning.
David Young invented and patented a medical software app called the "Arrhythmia Monitor" (now being further developed under the trademark BioHark). This patent was issued when David was 91 years old! This app when paired with a sensing device and a smartphone or tablet, allows arrhythmia patients to self-monitor arrhythmias like A-Fib, and manage their lifestyle and health practices to enhance health, exercise capacity, and longevity relative to cardiac risk.
A Outdoor Celebration of Life for David Young will be held on Saturday, May 8, at 1 PM, at the home of Rev. Caddy Jackson, 2677 Irene Way in Bishop. Social distancing and Covid precautions will be observed.