– Press release
The Owens Valley Growers Cooperative (OVGC) is pleased to announce that David Woodruff will be joining the OVGC in the position of General Manager for the new Food Coop/local foods café, bakery and community gathering place planned for opening in the former Mairs' Market building in downtown Independence this summer.
The Owens Valley Growers Cooperative's was founded by a group of Inyo County residents 2 years ago whose purpose is to build a local and sustainable food system in the Owens Valley through community education, support of local agriculture and the development of local market outlets.
With generous support from the Metabolic Studio and USDA Local Foods Promotion Project, OVGC will be re-opening the historic Mairs' Market building and offering Owens Valley residents the opportunity to buy locally produced and natural food products in addition to household staples. The small Café and bakery will provide wholesome and healthy foods for dining in or take out and serve as a focal point for the community to gather, and share friendship and ideas.
OVGC has operated the very successful Owens Valley Certified Market alternate weeks in Lone Pine and Independence for almost two years.
Woodruff brings with him a lengthy background in business, retail and food & beverage management. Most recently, he has been the Operations Manager of the Fort Independence Travel Plaza, RV Park and Winnedumah Winns Casino.
"I am deeply honored to have been selected to help get this exciting project off the ground," said Woodruff. "This is an incredible thing OVGC is bringing to Independence and all of the Owens Valley. To be able to provide not only much needed goods and services to our community, but also an outlet and an inspiration for our friends and neighbors to produce more local foods and value added products has been a goal of the OVGC founders since its inception…and now we're ready to make it a reality."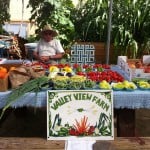 The goal is to have the not for profit Food Coop and Café open by this summer. With the help of volunteers, members and supporters, the outlet will offer the best selection of items at the best value possible to consumers.
"The purpose of the Food Coop is not to accumulate profit for investors, but to meet the goals, needs and aspirations of its members and community" said Woodruff. "We'll not only provide healthy, delicious and sustainable foods at a good price, but we'll also be a source of information and learning, offering a variety of outreach programs from home canning to winter gardening. We hope to be a catalyst for economic revitalization and provide a gathering place for people to come together and share and contribute their ideas, interests and goals.
"We have a lot of work ahead of us and hope to gather support from our community to help get us open. Community forums, fundraisers, membership drives and volunteer work days are all planned for the next several months. I look forward to meeting everyone who's interested in helping make this worthy project a reality."
For more information on the Owens Valley Growers Cooperative Food Coop and Café you may contact them at [email protected] or checkout their Facebook page https://www.facebook.com/OwensValleyGrowersCooperative