By Deb Murphy
After 18 years as Chief Executive Officer of Toiyabe Indian Health Project, David Lent was fired by a board vote of 7-6.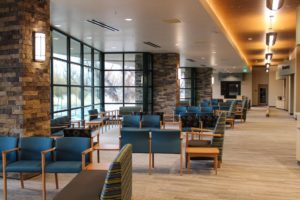 Describing the past 10 weeks as a nightmare, Lent laid into the board before the vote was taken. He announced he had the resignation letters from Chief Financial Officer Mary Daniel, Human Resource Manager Cyndee Kiddoo, Medical Director Nancy Fong and a retirement letter from Chief Operations Officer Rick Frey. All but Fong had been suspended, along with Lent, on July 14 in response to allegations brought by a staff person in the HR department, Geraldine Weaver.
Accusing the board of treating the clinic like a "political football," Lent said "you're destroying people lives and putting the clinic in jeopardy. I don't get it…. Some (of the board members) have gone way out there. You should be looking at your communities. We're going to lose providers, people who've spent their lives in service to this clinic."
He didn't stop there. "We've worked hard to get here," he said in reference to the less than a year old clinic on See Vee Lane, funded by a $14 million federal Department of Agriculture loan. "And you're throwing it all away. Go back to your communities and tell them what you've done. I will not resign—you guys are doing the wrong thing. Some of you are not ready to stand up and let this clinic grow."
One TIHP board member from Big Pine, Dave Moose tried to stop Lent from speaking prior to the termination vote, but his motion was voted down.
Those who voted to terminate Lent were Moose and Gina Jones from the Big Pine Paiute Tribe of the Owens Valley, Earleen Williams and Jeff Romero from the Bishop Paiute Tribe, White Dove Kennedy from Timbisha Shoshone Tribe and Tina Braithwaite and Shane Saulque from Utu Utu Gwaitu Paiute Tribe.
Bridgeport Indian Colony (Henry Glazier, James Ybarra), Lone Pine Paiute-Shoshone Reservation (Richard Button, Robert Zucco) and Fort Independence Indian Reservation (Marilyn Bracken, Rick Maddux) voted to keep Lent on board.
The Chair, George Gholson, only votes to break a tie.
One notable irony: the board decided earlier this month to meet with Lent, announcing the fate of the three suspended administrators would be in Lent's hands since the board only had authority over the CEO. After responding to allegations made by Weaver, Lent returned to TIHP and brought Frey, Kiddoo and Daniel back last week. Now all four are gone.
The 7-6 vote has been consistent in the board's dealings with the administrators since the four were suspended July 14. That rift in the 14-member board is one absolute that can be picked out of the rumors and allegations of racism against both non-Native employees at the clinic and non-Native patients.
Moose all but confirmed the latter in his response to Lent's statement. Moose's grandmother was one of the delegation to Washington, DC 40 years ago, asking for medical care for the counties' Native American community. Moose said the Tribes were not receiving adequate medical care back then and the purpose of Toiyabe was to get "the best medical services for Native communities."
Unfortunately, according to reliable sources, the expansion of services offered by Toiyabe is financially dependent on serving all communities in addition to Tribal members. As an example, one of the grant deadlines that passed while the administrators were suspended supports Toiyabe's Coleville clinic. During her brief return to TIHP, former CFO Daniel managed to get an extension on the deadline from September 9 to September 29, this Friday. The specific grant funding requires the clinics provide services to everyone.
Sources have also confirmed the Bishop Paiute Tribe would be held liable for the $14 million loan if Toiyabe goes under.
Following the official termination of Lent yesterday, the Board opted to have the executive committee meet and come up with an action plan to fill the now five vacant positions on an interim basis. In the words of one of our sources, TIHP has been a "rudderless ship" since July 14.