He goes by the name of Green Cowboy or Eco-Pioneer. David Freeman has headed four major U.S. utilities in his 83 years. One of them, the LADWP. Now, Freeman wields his energy ideas as a kind of Vice Mayor in charge of environmental issues in the City of Los Angeles. Freeman has his eye on solar power.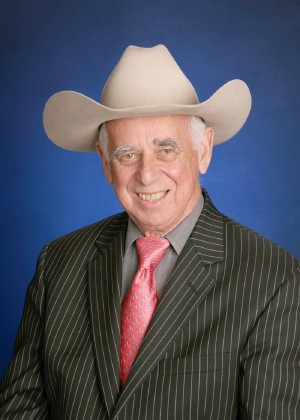 David Freeman caught the public eye this week when he stood up to represent LA at the State Lands Commission meeting. Freeman stood toe to toe with a Governor's appointee on the commission in defense of what LA has done and will do on the dry lake. It was Freeman who brokered the dry lake clean-up agreement when he headed DWP.
Now, according to Air Pollution Control Director Ted Schade, Freeman wants to create the biggest solar park in the Owens Valley. In fact, Freeman wants to see if he can control dust with solar panels. That could save water and generate power.
Schade said Freeman and others are working on a design to test in a wind tunnel. After that, Freeman would put panels out on the dry lake in a limited area for a test. Freeman is talking to solar panel manufacturers, including some in Israel, where conditions are harsh.
Recently, Freeman conducted a tour of the dry lake with an explanation of his plan for people from the Clinton Climate Initiative, from the Public Utilities Commission and California Energy Commission.