Press release
In collaboration with Inyo County's Sesquicentennial celebration, the Friends of the Eastern California Museum (FECM) will be offering a special Field Trip, "Geologic Features of the Owens Valley." The field trip will be conducted by Independence resident and noted geologist Dave Wagner on Saturday June 11th.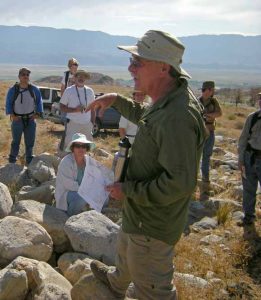 Dave Wagner is a retired field geologist for the California Geological Survey, where he worked for 38 years. He lives in Independence with his wife Lynn Johnson (a retired archaeologist). Dave & Lynn are both members of the FECM Board of Trustees.
The field trip will visit some of the major geologic features in the Owens Valley including the Alabama Hills, the Big Pine Volcanic Field, Owens Lake and alluvial fans. Participants will meet at the Lone Pine Interagency Visitor Center parking lot at 8:30 a.m. The cost is $25 per person, and $20 for members of the FECM. Bottled water will be available and bring hats and sunscreen. Car-pooling is encouraged.
The lunch stop will be at the Eastern California Museum. Box lunches will be available for purchase from the Owens Valley Growers Cooperative for $10. They'll even deliver them to the museum.
The trip is limited to 35 people and is expected to sell out quickly. To sign up for the trip or for more information, please call the Eastern California Museum at (760) 878-0364.