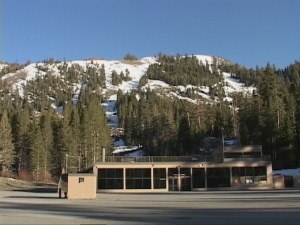 News this week has dramatically added to the spirit of hope for June Lake people. According to Mono Supervisor Tim Alpers, June Mountain General Manager Carl Williams told the group at the Citizens Advisory Committee meeting that the Ski Area operations plan for June has gone to the Forest Service and that the Mountain will open for winter activities December 14th.
It was last June when Mammoth Mountain CEO Rusty Gregory announced that June Mountain would close immediately and stay closed for the winter season. He pointed to a continuing $1.5 million operating loss. Gregory eventually said that June would re-open the following season. It was a tough year for the community of June Lake. Citizens struggled to be heard and pushed for their mountain to re-open.
Supervisor Tim Alpers was elected during this time and represents June Lake. He vowed to restore June Mountain. At this week's advisory committee meeting, that promise was solidified.
The other positive news for June Lake – escrow on the Rodeo Grounds property closed over the weekend, according to Alpers. The buyer is Ed Roski, half owner of the LA Kings hockey team and part-owner of the LA Lakers basketball team. He is number 104 on the Forbes' list of the 400 richest Americans. Roski's net worth is listed as $3.7 billion. He is President and Chairman of Majestic Realty Company. Roski has also been reported as being involved in plans for a new football stadium and entertainment area east of Los Angeles.
As Supervisor Alpers said, Roski has the emotional connection to June Lake and the resources to do something productive. The Roski family has long owned a second home in June Lake. Roski has not specifically said what he plans to do with the Rodeo Grounds acreage except that he wants to do something to please the community, County and stakeholders.
The Rodeo Grounds acres, previously owned by Intrawest, are seen as the area for some type of development for the community. In the past, June Lake residents were split and fighting about the proposed density of a Rodeo Grounds project. All hope this time, plans will come forward that draw general support. There have been discussions about the need for more and updated lodging for the ski town as well as other amenities.
Supervisor Alpers said when plans come together, the Supervisors will initiate hearings. Alpers said with the re-opening and improvement of June Mountain, the investment of Mr. Roski and other community improvements, he thinks June lake is positioned to "really take off."