For some residents in the Big Pine area, it was a very dark Halloween Sunday night. 221 customers experienced power outages. Some for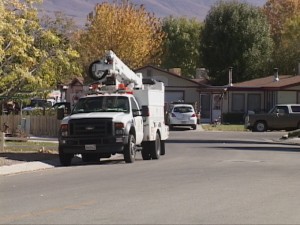 10 seconds and others for 20 hours.
Dan Brady of Edison confirmed the power outage and said it was caused by a bad transformer. Edison crews worked on the problem for several hours. Brady said customers in Knight Manor and the housing area north of Big Pine were affected. Brady explained that most customers experienced only a very brief outage. 63 customers had no power for four hours and 43 customers were out all night into Monday morning.
In the past year, Edison service experienced similar underground transformer problems in Bishop and Mammoth Lakes, causing extensive and long power outages in both communities. Asked if the extensive outage in Big Pine were related to a lack of maintenance by Edison, Brady said, no. He said that every three years crews inspect the underground transformers with extensive testing.