Daniel Gale McRoberts, 57 years old of Lone Pine, CA. passed away on Wednesday April 1st 2015 in Keeler, CA.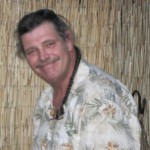 Danny was born June 16, 1957 in Yreka CA to Thelma Brumley and Bailey McRoberts. Danny spent much of his childhood with his brother Bailey McRoberts camping, fishing, and hunting. They liked to ride their motorcycles on the back roads. They would explore the old mines and hunt for old bottles.
Danny attended Bishop High school where he was on the wrestling team and won many awards. Danny had many different jobs but was more known for being a cook. In his later years Danny spent much of his time fishing, mining for silver, and exploring the desert with his dog Rosie. Danny had the ability to make everyone love him; he had many friends who loved him like family and will be greatly missed by all who knew him.
Danny is preceded in death by his Mother, Thelma McRoberts, and Father Bailey "Scooter" McRoberts and is survived by Daughter Sarah Wilson of Burleson Texas, Daughter Kelly Green and son in-law James Green of Rio Linda, CA. Grandchildren: Ariel Green, Michael Cronan, Danielle Cronan, Bailey Green, Kylie Green, Kiely Green, Tristin Wilson, Jaden Wilson and his Brother Bailey Lee McRoberts.  A celebration of life will be held on June 20th at 2:00 p.m. at the V.F.W. in Lone Pine, CA.
-Dan the man