Our beloved father, Daniel C. Dean passed away July 5, 2016 in Bishop CA, a town he loved.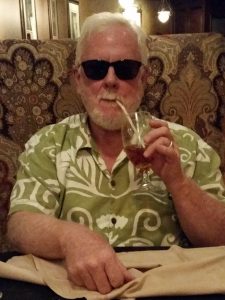 Dan was born on February 18, 1954 in San Gabriel, California to John and Vina Dean. A rambunctious young boy, with a great sense of humor, Dan always loved to have a good time! He liked to make people smile and tell you a good joke. He loved to tell you how he "liked nothing", but if you knew Dan, you knew that wasn't true. Dan's parents moved to Bishop in the late 60's. In his youth he enjoyed the time he spent at Bob Tanner's Red's Meadow Pack Station, where he started working at the age of 15. Bob took Dan under his wing and showed him everything there was to know about packing. Dan went to middle and high School in Bishop. He played high school football for Bishop Union High and graduated class of 1972.
He moved to Paramount, CA to pursue a trucking career when he was hurt in a motorcycle accident at the age of 19.
He spent four years in the hospital recovering from the accident. Once recovered, he started helping his brother, Ralph Dean with his trucking business. Ralph Dean and Sons trucking was the start of his trucking career. He had his own truck and loved the road. He loved being around his fun nephews and working as a family. The business closed years later and Dan started up Dan Dean Trucking.
After having a kid and a wife of his own, the self-proclaimed Bishop boy at heart, now felt the pull to go back home. Dan continued trucking back and forth to "HelL.A." (as he called it).
Being a truck driver came with sacrifices, it was never easy for him to be away from home but it provided for his family so they could live in beautiful Bishop. He was dedicated and hard working with an even stronger work ethic. Dan often went to Red's Meadow to get away, he loved being one with nature.
Dan loved being a volunteer at Mule Days, he was very proud and grateful of all the volunteers that helped him to accomplish his goals during these special days. His passions included being on the show committee, a member of the board and an executive show chairman.
His many years of packing came in handy during all the events. The day he became President of Mule Days, he was honored and proud. His goal was to introduce younger generations to packing and what Mule Days was all about. He wanted to keep the tradition going for years to come.
Dan leaves behind many memories for us all to cherish. We can all remember a joke he told us or a way he made us smile and laugh, he would love knowing that!
He is survived by his daughters, Breanne and Ashley Dean of Las Vegas, and his nephew and best friend, Roland Dean.
A private "Celebration of Life," will be held September 24th. Contact Breanne Dean at 702-882-1643 (call or text) or email [email protected] for information.
He whole heartily wanted to see "The Trump" become President, So "Vote Trump!"