"From city halls to county courthouses, from the State house to the White House – bureaucrats control our lives.  Public servants who often try to become our masters.  People whose salaries we pay, but what goods and services do we get?  On Sierra Wave's Bureaucrat Beat, we'll
report what they're up to."  That's the Bureaucrat Beat declaration of dissatisfaction, but as you may know, Bureaucrat Beat talks about so much more.
Marriage made in Heaven?  Seems a Fox news reporter in Rome will become the official Vatican spokesman.  He's a member of the ultra-conservative Opus Dei faction of the Catholic Church.  DaVinci Code, anyone?
No marriage here.  Locals who contacted us said they intend to rebel against Forest Service road closures that make no sense to them.  Forest officials say too much OHV use on roads has caused damage or threatened plants and animals, and they went through years of public hearings on this under a USFS order from their Chief.
People on both sides have legitmate concerns. Might be time for cooler heads to pull out a highly informative book, "Territorial Imperative" by Robert Ardrey.  It's all about how we are biological as well as social animals with a drive to dominate what we feel is our territory.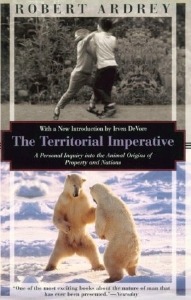 Here's one review: "Attachment to a certain territory, which Ardrey has defined as the "territorial imperative", is a most deeply rooted feature of all living beings, from a worm to a human. R.Ardrey begins his book with the definition of this central notion: "A territory is an area of space, whether of water or earth or air, which an animal or group of animals defends as an exclusive preserve. The word is also used to describe the inward compulsion in animate beings to possess and defend such a space." Of course, the most inventive of animals – the human species – have extended their "territories" far beyond their apartments or garden plots to spheres of influence in business and politics, employment, etc."  Not to mention roads and trails.
It helps to deal with reality – people are territorial.  Can't dismiss deep, cellular feelings with bureaucratic processes or logic.  Things would go much more smoothly if territorial needs were recognized and respected.  Of course, as humans we do have the capacity to learn to respect others' territories.  Yeah, right, tell that to the LADWP.
Ever wonder why all those mules never back out of what must be a very stressful parade route – hundreds of shouting people, bands, and babies??  A private source told us that the stubborn  hybrids receive, well,  chill pills!!  Okay.  Believe me, critters, Mule Days is stressful to human types too.
We in the Bureaucrat Beat Newsroom were under daily stress back in the day when  the Department of Fish and Game demanded the death of Arthur the Bear, who had apparently been wounded and was in hiding in Mammoth Lakes.  Arthur, so named by people, became a celebrity and a symbol of the need for change in how Fish And Game deals with wildlife.  During those hard days when Sierra Wave was videotaping the bear in hiding, Fish and Game tried to confiscate our tape!!!  Yikes.  Now, we hear they are taping Steve Searles whenever they talk to him ( which probably isn't that often).
Not that anyone ever pays attention to Nobel Prize winners, but Nobel Laureate economist  Joseph Stiglitz has warned in his new book, "The Price of Inequality" that growing gaps in wealth and income in the US pose "a rising threat" to the country's economy and democracy.  "I am very worried," Stiglitz said.  "It is something to which we are marching very rapidly."
Some U.S. Postal workers are worried that Congress will fail to help the struggling service.  According to the Washington Post, a small group of postal workers and supporters started a four-day hunger strike on Monday to "protest the U.S. Postal Service's deteriorating finances and service and Congress's failure to address the situation.
This, prior to the postal service ending overnight delivery of up to 20% of first-class mail.  The rally in front of the U.S. Capitol involved the group, Communities and Postal Workers United. Seems Congress has failed to act on several bills that would rebalance postal finances through buyouts and early retirement incentives.  We've all seen postal service slip in the Eastern Sierra – mostly through serious cuts in service hours.
One retired letter carrier was quoted in the Post as saying, "You reduce service, and people give up on service."  Sure right about that.   Postal workers say that by law, the postal service has had to overfund its pensions by $13.5  billion.  What????
Again, bills are pending to let the USPS use these overfund dollars to operate.  The agency currently has a projected loss of $14 billion for this fiscal year.  Email anyone?
With that, this is Benett Kessler signing off for Bureaucrat Beat where we await your word on our lives in the Eastern Sierra and beyond.