Over the weekend bicyclists from around the nation rolled into the Eastern Sierra for the seventh annual Everest Challenge, considered one of the most difficult tw-day bike races in the country.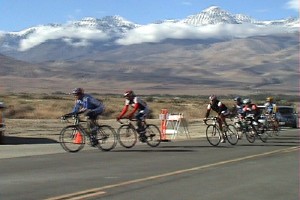 Saturday, road bike racers geared up for the grueling two days of riding that took the cyclists up the Rock Creek Road, Pine Creek, and up 168 to South Lake. On Sunday the race continued up Big Pine Creek to the Glacier Lodge, to the Eureka Valley and then up to Westgard Pass for a total of 29,035 feet of uphill (the height of Mt. Everest,) and 206 miles of pedal-powered suffering.
In years past, the cyclists had to contend with hundred-degree heat. This year snow and sleet added to the adventure. Bikers that we spoke to described wet and cold conditions in Rock Creek and up 168 to South Lake on Saturday.
Dr. Thomas Reid of Bishop helped create and organize this grueling race. He reports several past national champions raced the Everest Challenge, as did one past world champion.
Dr. Reid reports that money raised by the Everest Challenge goes to Freedom in Motion, the Northern Inyo Hospital foundation, and a number of local youth sports programs.
The fastest time this year was 10:50 minutes for Lindsey Blount from Santa Barbara. The second fastest time went to Jesse Moore from Sacramento who came in at 11:01 for the two day race.
Just looking through the results, a good number of local names represented the Eastern Sierra in the Everest Challenge. Jerry Oser, riding for Bishop Velo took third in his category. Dennis Phillips, of Mammoth took second in his category as well.
Many riders didnt finish the race. Dr. Reid reports that 145 riders finished out of 217 that started, the highest completion rate ever for the Everest Challenge.