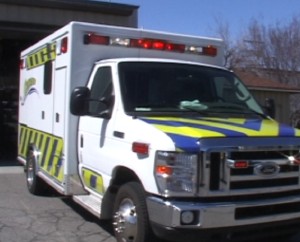 In spite of the fact that Symons Ambulance has failed to pay for dispatch services for some nine months and failed to respond to twenty requests to discuss the matter, the Bishop City Council gave the company more time to meet its obligations. Some council members point to valuable ambulance service while others say it's a matter of a signed agreement and an expired contract.
Police Chief Chris Carter and City officials, frustrated by a complete lack of response by Symons, issued a press release saying Carter would ask the City Council to consider terminating dispatch services for the ambulance company. Symons Ambulance has grown into what one financial magazine called "one of the fastest growing companies in the nation" with revenues of $3.9 million this year and operations in southern California. So, why the non-payment of $13,000 and why the lack of response and cooperation? Judd Symons would only say the company has problems collecting insurance reimbursements for service.
An unconfirmed story did come out when the City Council met Monday. A story that Judd Symons claims he could not provide a requested profit and loss statement to document financial problems because a company Symons wanted to merge with was under investigation by the FBI for alleged fraud. That claim, too, remains unexplained. And, while Judd Symons would not speak with the Police Chief or City Administrator, he did talk privately to council members.
Council woman Laura Smith said she doesn't think Symons has to prove a financial problem. She said, "We dispatched for him for years with no charge." Smith said she did not believe the City has to consider the actual financial status of Symons in regard to the lack of payment to Bishop. She agreed some of Symons' behavior is "bad business", but said the Council has to weigh the importance of a "critical service to the people."
Without dispatch service from the Police Department, ambulance calls would go directly to Symons Ambulance and police or fire would respond at Symons' request, according to officials.
Councilman Dave Stottlemyre is looking at the Inyo County ambulance contract expiring in June when the service will go out to bid. He hopes the Symons problem will be resolved and wants to "keep working with them." After visiting with Judd Symons, he said it's hard on small businesses with all of the regulations. Is he aware that Symons has grown into a major company? Stottlemyre said he is but he thinks in an area like Bishop they are losing money. He said it's not costing the City anything to provide free dispatch service.
Other officials disagree and point to equipment, personnel and liability. The lack of a contract leaves the City liable for dispatched cases. Stottlemyre said constituents are benefiting from the dispatch services.
Councilman Keith Glidewell said he has spoken to Symons who offered no reason for not paying the City. He said he's researching the issue and is not ready to take a position. Glidewell is concerned that terminating dispatch services might impact the ambulance services.
Mayor Pro Tem Pat Gardner said, "Symons is in breach of their contract and they need to pay. Their contract says what to do to make modifications." She said Symons did not respond to any communications in over a year. Said Gardner, "If they can't make it work, they need to talk to us. Don't just default and do nothing." Of the Council's lack of action on the issue, Gardner said it sets a horrible precedence. She said it's not a personal matter and that Symons does a "wonderful job." Gardner said the City has an obligation for public safety but also a fiscal responsibility on contracts.
Before the Council meeting, Judd Symons dropped off a check at the Police Department for a reported $3200 on the $13,000 owed and told an officer about the alleged merger and fraud investigation. More on this issue is expected at the January 13th Council meeting.