Press release
Mammoth Lakes, CA – Curling is known as one of the more accessible paths to Olympic glory. Following Sunday's introductory lesson and match play at the
Mammoth Ice Rink, a few excited locals now appear to have their sights set on
Pyeong Chang 2018.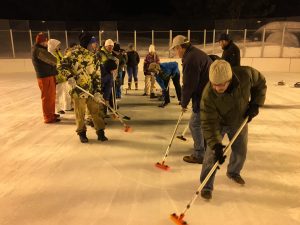 Thanks to Richard Lazarowich of the Granite Curling Club, Stockton CA, the
medieval Scottish tradition experienced a renaissance Sunday evening in Mammoth
Lakes. A lively group of residents and visitors braved the cold for instruction and a
basic history in all things curling.
After participants were deemed experts in pebbling (spraying water droplets on the ice to create an orange peel-like surface), hacks (similar to a starting block in track and field, it gives the thrower something to push off) and sliders vs. grippers (the different shoe soles required for, yes, sliding and gripping), the games began in earnest.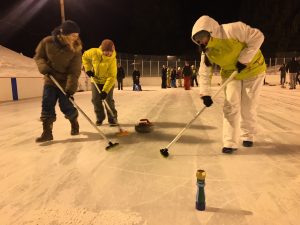 Some very enthusiastic 'sweeping' was perhaps the highlight of the night, however
the military-style planning and strategizing revealed why curling is often referred to
as 'chess on ice'.
While everyone attending was declared a winner, it appears that Mammoth Lakes' future medal hopes may lie with emerging stars Josh and Lauren Plum, and Ian and Lindsay Birrell. Mixed doubles makes its Olympic debut in 2018, and they certainly seem committed, but perhaps Beijing 2022 is a more realistic goal.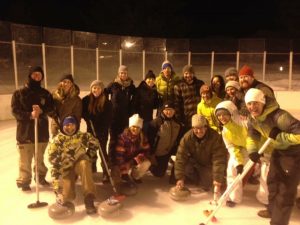 Thank you to everyone who participated. And a very special thank you to Richard
and Alice of the Granite Curling Club, whose knowledge and enthusiasm for the
sport is unrivalled. Their willingness to transport 600+ pounds of curling stones to
Mammoth Lakes from Stockton, CA is very much appreciated.
Parks and Recreation Department staff are working to bring curling to the
Mammoth Ice Rink on a more regular basis with the goal of offering league nights
and drop-in play.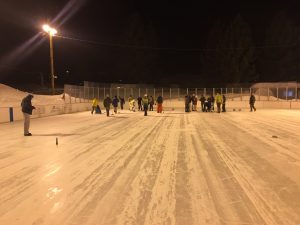 ###
The Mammoth Ice Rink is an outdoor facility located in the Town of Mammoth Lakes
offering public skating sessions, skate improvement programs, expanded adult and
youth hockey programs, Friday Night 1st Timer Skate Assist, special events, and a
midweek lunchtime skate session for only $6.00.
The Mammoth Ice Rink is open from November-February weather permitting. Amenities include skate sharpening, skate rentals and snack and beverage services.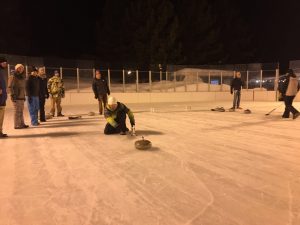 The Mammoth Ice Rink is a drug, tobacco and alcohol free facility. Kids 4 and under must skate with an adult and  children 10 and under must be supervised by an adult at all times.
The Mammoth Ice Rink is owned and operated by the Town of Mammoth Lakes
through a partnership with the Mammoth Unified School District and Mono County
Office of Education. The Town of Mammoth Lakes is committed to providing the
most enjoyable outdoor ice skating experience possible.
Please visit www.mammothicerink.com to review updated session times, fees and
programs or call the Mammoth Ice Rink during operating hours at (760) 965-3695.